The Star Ranch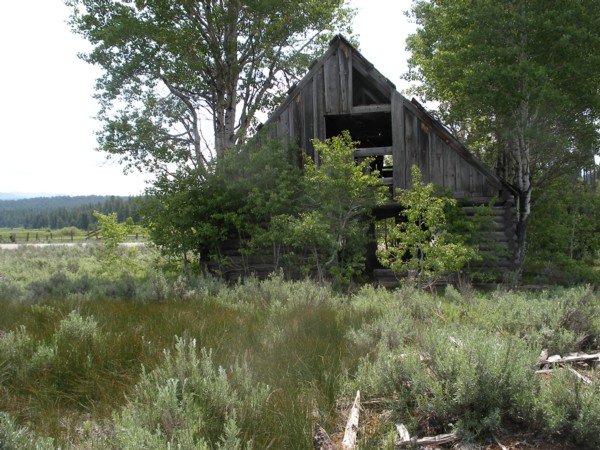 between Horseshoe Bend and Placerville
The typed pages tacked on a sign in front of this building reads as follows:
Star Ranch and Ranft Family History
Katharina Kull
February 28, 1837 January 28, 1907
Katharina was born in Munster, Hessen Darmstadt, Germany. Her mother died when she was seven years old. She emigrated to New York with her father in 1852, when she was fifteen years old. From there she moved to San Francisco in 1856, returning to Munster, Germany in 1858.
Philip Ranft
January 17, 1838 September 16, 1908
Philip was born in Munster, Hessen, Darmstadt, Germany. He was a professional violinist.
Philip and Katharina married in Munster on February 17, 1859. They returned to the United States in 1859. There first child, Elisa Margaretha, was born in Charleston, South Carolina on November 29, 1859. The family arrived in San Francisco in 1860. Katharina Anna Christina was born there on September 23, 1861. Phillip went to Idaho City for the first time in 1863, leaving Katharina and the children in San Francisco. Christina Victoria was born on November 15, 1863 in San Frandisco.
During the next few years Philip and Katharina returned to Germany at least once and possibly more times before settling in Boise County, Idaho Territory.
Christina died January 1, 1866. Maria was born on March 13, 1866, in Hessen, Darmstadt, Germany and Wilhelm August 21, 1868 in California. After Wilhelm's birth, Katharina and the children traveled by stage coach to join Philip in Idaho City.
Philip obtained obtained his United States citizenship in San Francisco on September 29, 1868.
The family moved from Idaho City to Granite Creek in 1871, where Philip was a miner. Anna Margaretha was born there on December 13, 1871 and Ross(?) on January 15, 1873.
Star Ranch
They purchased the Star Ranch in 1874 from David and Catherine Lamme (Lamb), who settled there about 1870. The ranch comprised of 480 acres of grazing, farm and timber lands.
Franke Thomas was born at the Star Ranch on July 25, 1875 and Lillie was born on April 13, 1880.
Philip and Katharina built a thriving enterprise with a hotel, saloon, a dance hall with living quarters in back, stables, a sawmill across the creek and a horse racing track, which attracted travelers, boarders, miners and ranchers.
During late summer racing enthusiasts of Southern Idaho came to the Famous Star Ranch. Nearly all the horses were locally owned, a few of the Idaho owners had imported horses that were carefully bred in Kentucky.
An ad in the "Idaho World" extended a general invitation to "Grand Races" lasting four days at the Star Ranch course, starting August 22, 1879(?) with a "Grand (?)" the first night given by Philip Ranft. Tickets including supper were $3.00. A prize for a winner could be a $20 gold piece.
The ranch was also the site of the county poor house on two or three occasions.
Philip and Katharina divided the ranch lands amongst their children in 1908 . .(faded and water stained)
Idaho GenWeb Home | Boise Co. messageboard


Photos and narrative by Sharon McConnel | © 2013 Reba McMillan. All Rights Reserved.